What better way to start the first few days of spring here on the peony farm with some new family members! Yes our cat lovers this is your post! As you know from previous posts, our dear Heidi has taken a liking to playing with our cats. However in this case, Lucy is the star of this post. Lucy came to us as a stray and we nursed her back to health. It was apparent last fall that Felix really took a liking to her since he had not been fixed yet. Well one thing led to another and low and behold Lucy appeared to be gaining a lot of weight back in January. Oh dear, she is pregnant. Within the past few weeks, Lucy would not let any other cat share the nice warm cat hotel that was built by some close friends of ours. Lucy was content to have the cat hotel all to herself. Well Thursday night and Friday morning, Lucy gave birth to four wonderful kittens. All are doing well and enjoying their nice, warm living quarters. So we share this post with all our cat lovers who have asked me to post more of the feline members of our family.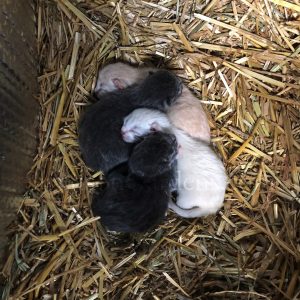 I wasn't able to get too close to them as mom was not very happy that I was peeking in at them.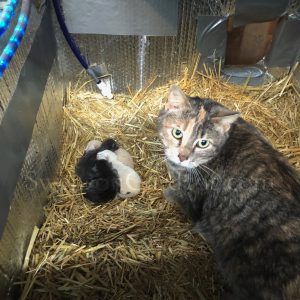 When we first received Lucy from a neighbor who found her at their doorstep, she would not show herself to us but we knew that she was eating the food we had left her after we departed. Over the months she has been here, now Lucy is the first one to great us when we go into the barn. She is a love ball and will even let me hold her on my lap.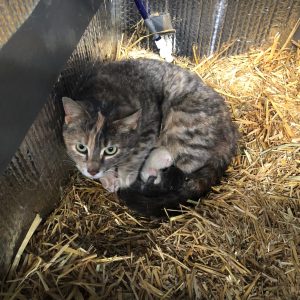 Lucy is such a great mom and now we know why she was keeping our cat hotel all to herself. We can't wait to see them grow up. Don't you just love the all white one? Since Felix, the dad, was a 'mitten cat', appears that some of his babies are blessed with a second thumb as well. Life on the peony farm…continues to have new four legged family members.