The snow continues to melt here on the peony farm. Assuming by next week, only the drifts and snowbanks will be remaining. The warmer weather now allows Redd and Heidi to settle in to Redd's kennel in our garage. They seem to be adjusting better as roommates but the decaying morsels now visible and scented underneath the snow, provide a smorgasbord of nasty bites to eat. Last night I had to take an emergency run to a farm supply store to pick up ANOTHER bed. Yes those two goofballs went through two doggy beds after tasting and depositing the delectable decaying morsels on their beds. I don't get it! We buy very expensive, Fromm, dog food, but yet they prefer the putrid morsels. However, seeing these two cuddled up on one of two remaining doggy beds, washed away the clean up procedure.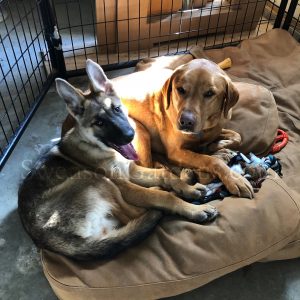 Ok troops, time for a trek outside. Neither of them wanted to leave while basking in the warm sunshine.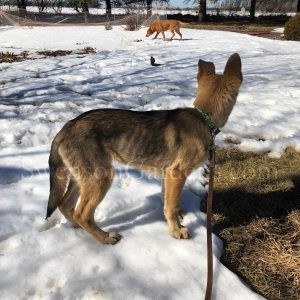 Whenever Heidi is tired or is roused from a nap, one of her ears doesn't pin up. Always on the watchful eye for Redd, we have to keep her on a leash so she doesn't find the delectable decaying morsels! Redd, 'here' so I can take another side-by-side picture to compare another weeks worth of growth in Heidi.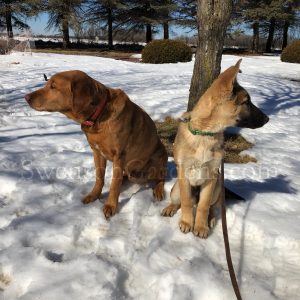 Is this a cute shot or what? Its fun to see Heidi exert her independence or maybe Redd is saying, 'not again dad'! What's that over there that Heidi is so focused on?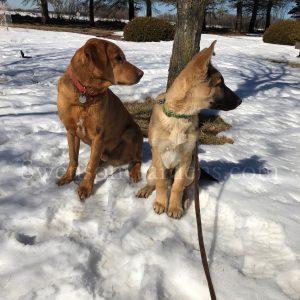 Redd, look whats over there!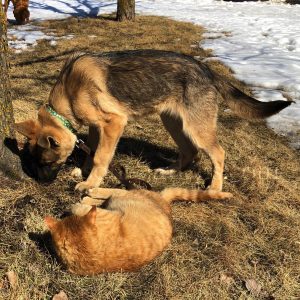 Oh dear, its Franky! They are turning into best buddies and Franky lets Heidi lovingly tussles with him. Again, no feline family members were harmed in this photograph. As you can see in the upper left hand corner of this picture, Redd is on a mission to find more exposed morsels. Thankfully Heidi is distracted by her buddy Franky and continues to play with him. Life on the peony farm…is a delectable slice of adventure!