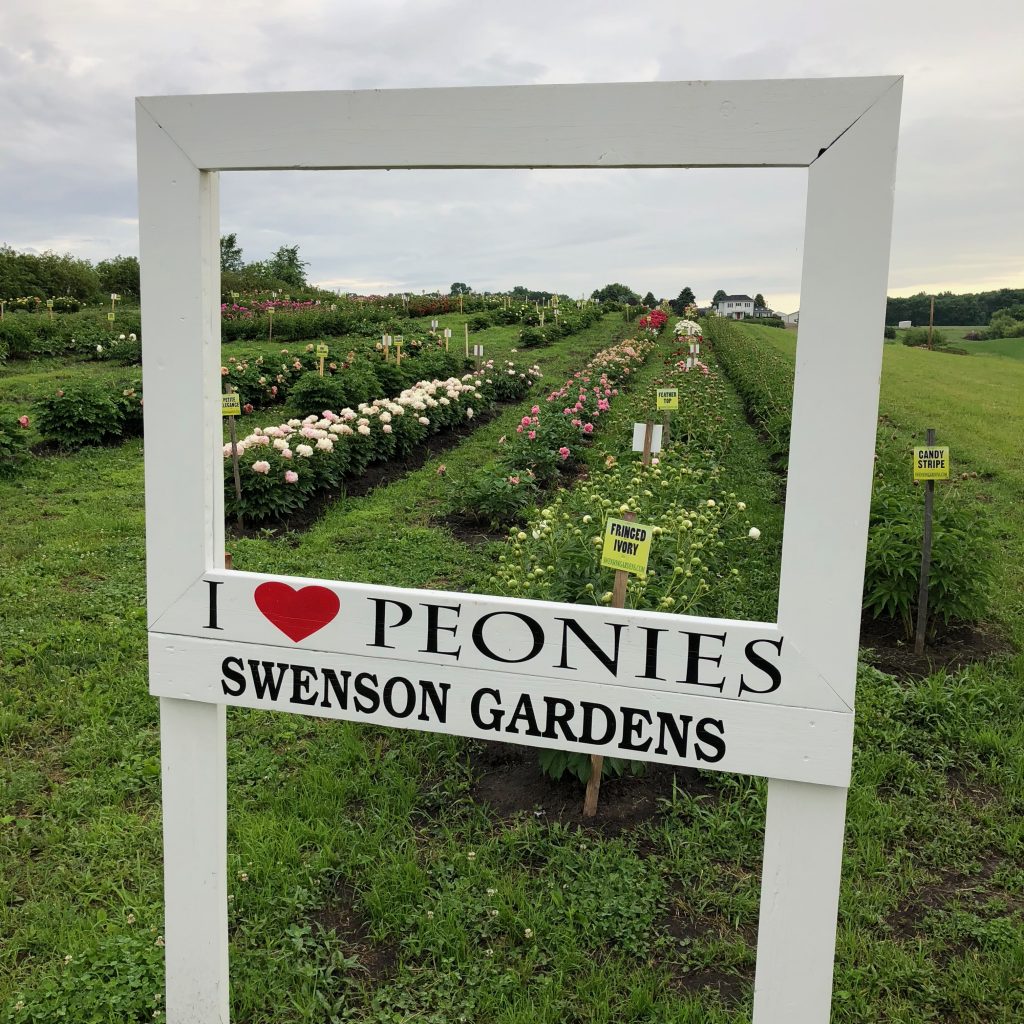 Greetings peony enthusiasts! We are pleased to announce our 2021 Swenson Gardens Peony Field Days. The dates are Friday's and Saturday's on June 4, 5, 11, 12, 18 and 19 from 9a to 5P. WE ARE NOT OPEN ON SUNDAY'S. We've added two more days to accommodate additional bloom times. Each week, please check back on our blog for bloom updates. Right now in the fields, the very early varieties are starting to bloom. Lil' Sweetie, Little Red Gem and Huthii are starting to show color so if the weather holds and not besieged with 90F temperatures, the early varieties should be at their peak on June 4th and 5th. Then as the presumed bloom season progresses, mid varieties the 11th and 12th and late varieties 18th and 19th. Again, 'presumed' bloom times. A lot can change in a week so check back on our blog weekly for bloom updates.
For those of you who have never attended our Peony Field Days, this is a chance to walk through our production fields for a hands on, or should I say hands off, experience on seeing and yes, smelling most of the peonies we have available for sale in 2021. Parking is available right off 70th St SW as you enter our property and yes multiple portable biffs are onsite. Our address is 10958 70th St SW, Howard Lake, MN. Dates are contingent on weather conditions so we will post cancellations accordingly based on inclement weather.
As you can see on our online store, many varieties are already sold out. If you are waiting to see your favorites and order during Peony Field Days, we would highly suggest placing your online orders now as many more will be sold out before and during Peony Field Days. Orders will not be taken onsite so ordering online is the only way to order for either shipping your peony roots in the fall or picking them up here in the fall.
Reservations are not required and we do not charge admittance to Peony Field Days. We want our property to be a blessing to all and ask that you use common sense and courtesy when safely traversing our property. Yes for those of you who are able, you will be doing a lot of walking. For those of you who have special needs, we do have some areas accessible for wheelchairs. Please check in with the attendants at the parking areas for more directions.
For insurance purposes, here are the fine print details in order to allow our property to be open to the public during Peony Field Days. Swenson Gardens, LLC and Keith and Becky Swenson, 'property owners', will not be held liable for any theft, damages, injuries, illnesses, infections and death on our property located at 10958 70th St SW, Howard Lake, MN 55349 during Peony Field Days. You are entering our property at your own risk with no implied help and actions that are required by said 'property owners'. Thus by you accepting and agreeing to our onsite policies, we the 'property owners', will be held harmless for any implied and actual events that may occur during Peony Field Days. If you do not agree to the aforementioned, please visit us online at SwensonGardens.com.
Ok now that we are through the required fine print in order to have Peony Field Days continue for another year, yes we are pet friendly as long as both the owner and pet are on a leash and cleaned up after their business is done. Please do not bring pets into the actual peony fields. The fertilizer production team 'FPT' may be viewable in their pasture however stay clear of the electric fences and stay outside of their pasture. Can you say Purple Martins? Yes our multiple martin houses are full of these acrobatic wonders of the sky so please give their homes some space. Speaking of space, numbers of you took advantage of picnics during your visit here so please avail yourself to any areas south of our pole barns. North of our pole barns are not open for admittance. For those of you with strollers, please do not use them in the peony fields. Leave at end of rows and carry your children
Bring your cameras, phones and tablets for photography opportunities. Boots if rain and oh yes, bug spray (administered in the parking lot and not anywhere else before entering the fields) and sunscreen if it will hopefully be, a sunny day. Varieties will be marked in the fields that we have for sale this year. Field maps are available in the white tent north of the parking lots. Please come to to the white tent upon arrival for more information.
Swenson Gardens Peony Field Days is soon upon us and we can't wait to see you in our peony fields!