With the warmer temps this past week, the peonies really took off above the ground. As I mentioned in a post or two last year, we are blessed with multiple growing fields on different soil types and various micro-climates. So in one of our fields that has black dirt (which warms up the fastest) and with its own micro-climate, the winner of the first peony to bloom is 'Starlight'. Very strange to have a herbaceous bloom before the tree peonies but oh the joy to see color in this particular field. Welcome to our 2018 peony season at Swenson Gardens!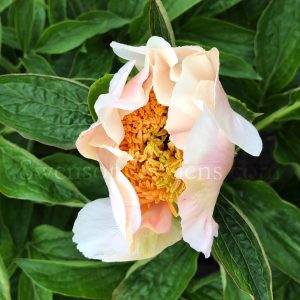 Coming in a close second is our sub. species 'huthii'. Because of the overcast conditions and cooler temps, 'huthii' did not open all the way so that is why second place is awarded.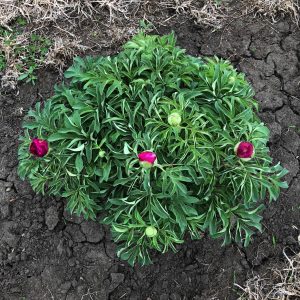 Stay tuned for an upcoming announcement regarding Peony Field Days in the very near future. We are waiting for another one of our fields to progress more. That field is mostly clay and loam soil so it takes a bit longer to warm up. With above normal temps forecasted next week, we should be able to announce the dates for June. Last fall we started to transition peonies back to the east of our driveway where many of you have walked a few years ago. The field west of our driveway was mainly used for filling peony orders but there are still many varieties left to show. We are also filling in the south side of that field as a display area that will show an amazing palette of color in two years. For those of you who have never been to Peony Field Days, we are NOT a nursery with cement or gravel walkways. You are actually walking through some of our production fields. Yes we do plant an annual cover crop between the rows, but for those of you who have been out here after rain and storms, it can be a tad muddy in areas. Because our fields change every year, we try our best to make it visually appealing and most of all informative and educational on how to grow peonies without chemicals as we do at this large of a scale. Oh and you will also see a plethora of peonies that are not found anywhere else in the US and for that matter in the world!