This post will bring you up to speed on the last 2 weeks of life on the peony farm. We took a long weekend away last weekend which was a pleasant relief from the prior weekends 12th largest snowfall ever. Was wonderful to see tulips and crab apple trees blooming and green grass at our destination. The first pics below will reveal white grass a week ago. Where's the mouse game came back to life with the 15″ of snow on the ground.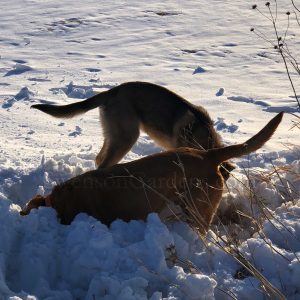 Redd is more enthusiastic with trying to find the mouse and of course Heidi is bored easily unless something or someone is running away from her. Ok troops, time to go on our next adventure!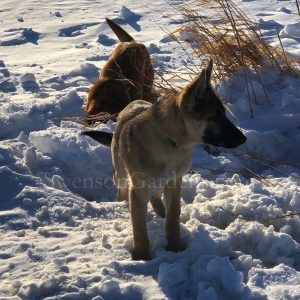 Yes, but Redd wants to play with me now?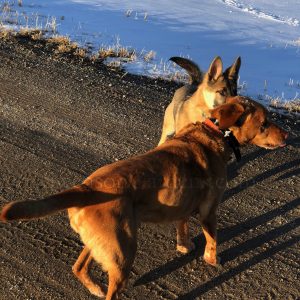 Thankfully I was able to catch Heidi before she ran off again. She is now able to jump into the Gator with a little help from dad and seeing Redd mirror the command for 'in'. Finally they are back in the Gator and ready for the journey back to our home. Oh dear, Franky is patiently waiting for Heidi's return, I think?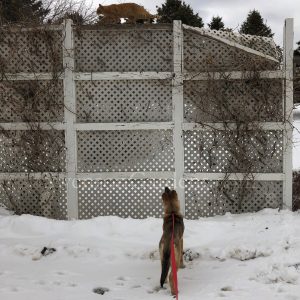 Nope, Franky has learned that being much higher than Heidi relieves him of having to play with her. Ok now on to today's pics as of April 28th. Green grass is starting to show with the warmer temps this week. Most of the snow is gone except for a few drifts in shaded locations. Heidi is now starting to recognize the 'go for a ride' theme.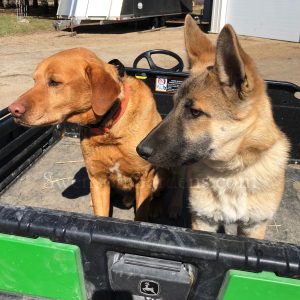 Not sure if Redd is all that enthused about how big Heidi is getting or he's just shy of all the pictures. Come on dad lets go!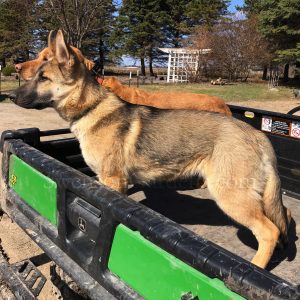 Yes but one more picture please. Heidi is about an inch shorter than Redd and is starting to fill out nicely. That's enough pictures so lets go for a ride!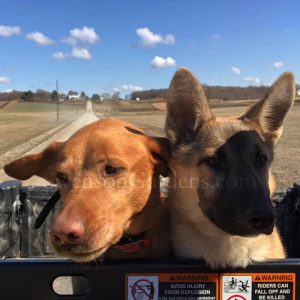 Selfie time! Geez, now dad is taking selfies of us traveling down the driveway! Oh well, at least we can go for a ride! Perhaps now spring has arrived on the peony farm?