I've been very remiss in posting as of late so will finally get to it after a very busy fall on the peony farm. After the digging, dividing and shipping peony season, planting back the new seedlings and named variety peonies commenced. This too is very intense as we planted and mapped out in the fields over 4,000 roots. The crew was able to accomplish this in two days. Because rain and yes snow was in the forecast, all peonies were in the ground and gently watered in. Some years that works to plant before rain and other years it does not so thankfully our Creator helped us out instead of hand watering in each root. It is a major sigh of relief after all the peony roots are in the ground. Clean up of the processing barn, washing stations and organizing lasted a week after that. You would think that all the work on the peony farm would be done? Well not exactly…time to cut some hay for the fertilizer production team!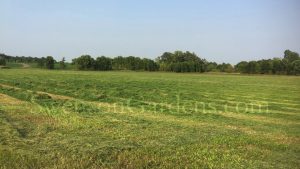 Not only do we bale hay on our land, but we also do that on two neighboring farms. Seems like our fertilizer production team continues to expand so we have a lot of hungry cows to feed. This was an excellent year for 1st and 4th crop, but not so good on the 2nd and 3rd crop as it was very dry from mid-July to mid-August. The 3rd crop is usually the most nutritious so having a bonus 4th crop really helped us out. We ended up with about 300 round bales so the fertilizer production team members are well fed. Now its time to clean up all the haying equipment, grease them and put in storage for another year. Whew one more to-do-list done for the year!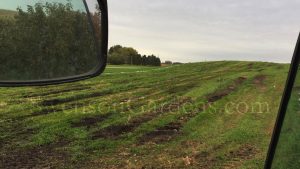 This is also another sigh of relief after all the peonies are cut down for the season! So long peonies and sleep well this winter! Driving past one of our neighbors, I noticed they had a lovely stand of alfalfa that wasn't cut this fall. A quick phone call and the field was ours to cut, bale and crop share. So on November 24th we took the haying equipment back out of storage and proceeded to cut their field.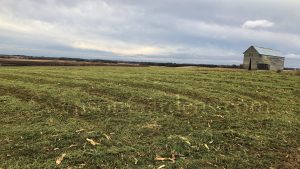 Oh my was that fun! This was the latest we had ever cut alfalfa in the fall and a week later baled up 17 more rounds. Because they had been exposed to many nights of freezing temps, the sugar content on this hay was very high. The fertilizer production team devoured these bales and were not very happy after they were gone. I told them they should be thankful!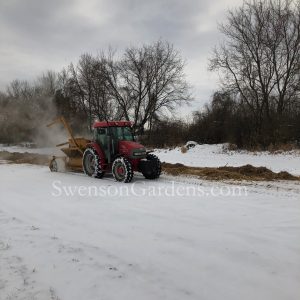 The newly planted peonies are now officially mulched on December 16th and enjoying their winter hibernation. Ok now we are done with all outside activities on our peony farm! Time to head inside now and start working on our 2018 website. We are hoping to launch our totally redesigned website by February 1st. Stay tuned for more details as we are beyond excited to show you our new site. Not only is it easy to navigate, but our designer told me to resize our pictures to larger sizes so peony enthusiasts can enjoy them more. Well that sounded great too until we realized that our data base of peony pictures could not be enlarged as they were already resized to smaller pixel sizes. Yes yours truly went through 48,212 peony pictures and found about 600 new pictures for our website. Ok so now I'm excited to show them to you but at the time drudgery was perhaps the state of my mind. Thankfully now they can be used as is in case our designer wants to make them even bigger for our next website. Life inside and outside the peony farm is soon to be done…I think! My, my, the things we do for our peonies!