Ok so what do we do when the outside temp is 39 F, 2 inches of rain (so far) and the peonies are pouting? We contemplate what needs to be done before Peony Field Days and organize photos. It doesn't take long to click off a few hundred photos during prime light but we also take the chance to photograph life on the peony farm.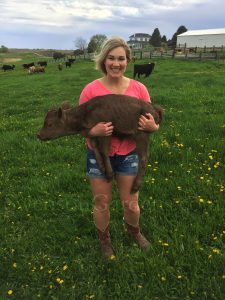 Welcome our new heifer calf that was recently born. Isn't she, including our daughter, ever so cute! Dexter calves are so sweet and adorable…just like our daughter! Of course dad isn't too biased here so 'little moo' welcome your new life on the peony farm as part of our fertilizer production team!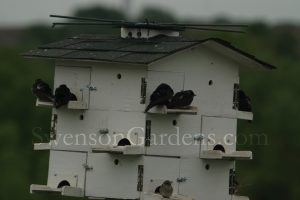 We took inventory on our Purple Martin pairs and we are currently up to 24. Only one egg was counted so far. And yes we do have a few sparrows that took over a few boxes. I tend to agree with my mom in regards to sparrows. See an earlier post regarding my dad's love of all living things. No I did not take a broom out to chase them away but I did encourage them to build their nests elsewhere.
Now this is not a site we've ever seen on our pond. A flock of American White Pelicans stopped in for a quick bite to eat. For those of you who have never seen our pond that we share with our neighbor, it may be about 1-2 acres in size. Definitely not big enough to hold this many Pelicans so we were glad that they left as the photo on the right shows them in a feeding frenzy. Perhaps minnows were on the diet plan that day?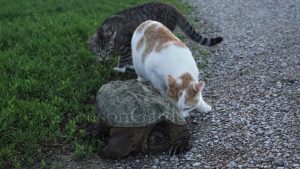 We've had many visitors both two legged and four legged, but this snapping turtle decided that our driveway in back of our house was a perfect place to lay her eggs. Needless to say Jazz and Felix had other ideas. Redd was quickly whisked into his kennel as that would not be a good situation. After putting on some leather gloves and approaching from the rear, the 'snapper' was hand delivered to another area where many different types of turtles have laid their eggs. Over the years we've had snappers in our barns and even in our garage. Life on the peony farm…you got to love it!