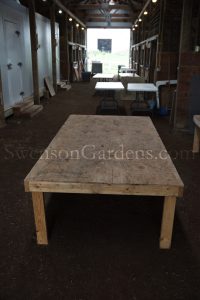 A couple of days ago the peony barn was cleaned and prepared for the picking and packing of the peonies.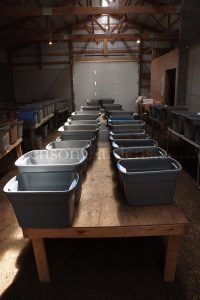 Can you say tubs loaded with peonies? This is a partial shot of the tubs waiting for the pickers to come through with customer orders in hand. Each tub and peony root is labeled and alphabetized so the picking is easier.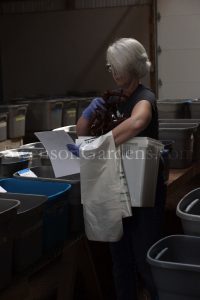 Susan is one of our new peony pickers. She and the team had fun today picking all the shipping orders. Most of those orders will go out on Monday, September 12th so peony lovers, next week it should be time for you to plant!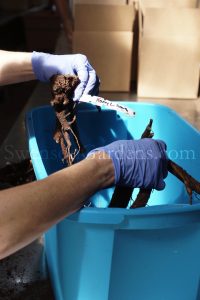 Did you order the Harry L Smith peony? One of these peonies might be yours!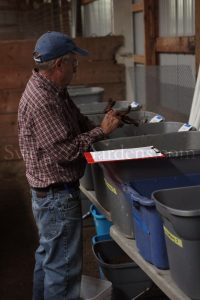 Dan S continues to amaze us with his ever careful eye in providing the most peony 'eyes' in the orders. If you plan on coming out to the Peony Barn Sale to pick up some more peonies, make sure to tip him well so he can help you find the best peony root! The system the picking team has developed requires each order to be double checked by another person to make sure all the peony orders are filled correctly. Tomorrow the pick up orders will be filled and placed into the coolers for the upcoming peony pick up days on Friday, September 16th and Saturday, September 17th from 9 am to 5 PM. More information will be posted about the Peony Barn Sale but for those of you who have visited before, might I suggest to come early for the best selection. The peonies we will have on sale are excess retail peony roots as well as smaller peony roots that did not pass our retail peony root requirements.