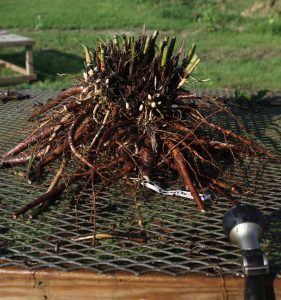 For those of you who grow peonies, yes the foliage, stems and flowers look wonderful above ground; but, we LOVE what is happening below ground level. Here a recently dug peony is hoisted up on to one of our washing stands. Its much easier to gently spray off any dirt at or near eye level instead of wrestling with it on the ground. This also prevents roots from breaking off as you can wash them from the top, sides and underneath through the mesh screen. This is an example of one of our 4-year old plants and yes it is huge. We dig our plants anywhere between 3 and 5 years old depending on the variety. The peonies that are faster growing are dug in 3-years versus slower growing varieties that are dug in their 4th or 5th year. Peonies are interesting plants when it comes to the best time to dig them.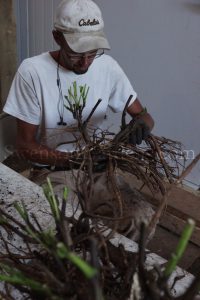 After the peonies have rested for a few hours after they've been washed, the team of surgeons aka cutters/dividers, carefully cut the peonies into retail divisions. Here Danny takes on some of our illustrious intersection hybrid peonies. They are considered the toughest peony to divide. Some of our dividers like the garden/herbaceous peonies better than the intersectionals, but Danny and I LOVE to divide the intersectional hybrid peonies!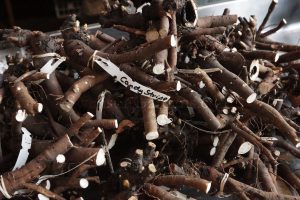 Again this year, Candy Stripe was our most popular peony. Needless to say here is a table full of retail divisions that are waiting for the processing team to do the final washing before they enter our coolers for filling orders. From the time a peony is dug, within 24-hours it has gone through the complete process and is put to rest in our coolers. This is extreme peony digging, washing, dividing, washing and cooler, but fresh and healthy roots is a must around here! Yes it means 12 to 14 hour days, but we do what is best for the peonies, period!