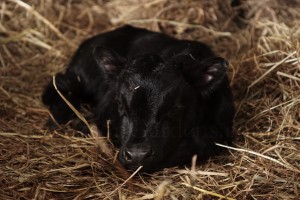 For those of you following us on Facebook, a name our calf promotion will be posted shortly. In the mean time please give a warm welcome to a new baby boy born this morning. This photo was taken about an hour after birth and moments later he was walking on his own. He is a long legged Dexter and I really feel sorry for the mom as he is a hunk!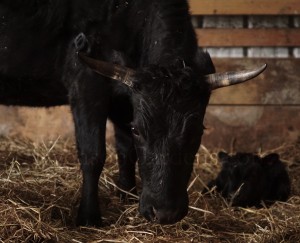 As you can see his mom, Squeaker, was not too happy with me getting a bit close to her new son. She warmed up to me though and allowed this photo even though her ears were pinned. Amazing how protective she is by cornering her calf and then laid down in front of him so the other noisy cows couldn't get close to him.
This is a bittersweet post for me as I introduce you to Elvis. Yes Elvis is in the barn! Elvis is our new herd sire (bull) as our peony composting team continues to add more employees. He is a red Dexter about a year and a half old. For those of you following Swenson Gardens Facebook, about two weeks ago I had to put my buddy, Buford down. We tried all means possible to extend his life, but being the former herd sire at 10+ years old, his time as head of the peony composting team came to an end. All our cattle are like extended family to us and many tears were shed. Seeing him suffer is something that I do not like to see with any animals. Of course now with Elvis, a new chapter begins and yes he does have an attitude. Don't you just love his curly hair? Almost reminds me of a bouquet of peonies! Welcome Elvis to your new home!