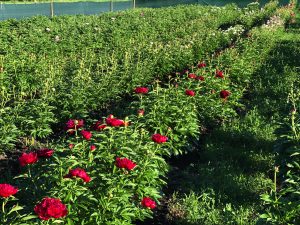 For Friday, June 1st, Peony Field Days will be open at Swenson Gardens from 9 am to 5 PM. Our address is 10958 70th St SW, Howard Lake, MN. Parking is available on the east side of our driveway as you enter off of 70th St SW. Yes we do have a couple of mini-biffs onsite just as you enter the parking area. You will see a large, white canopy on the west side of the driveway so stop there before entering the fields for more information. For those of you who would like to enjoy our fields from a vehicle, you can drive all the way north past our home and there is a turn around circle. Please note that our driveway will barely fit two cars meeting so best to wait until the coast is clear upon heading south back down our driveway. We are also a pet friendly farm so feel free to bring your four legged family member as long as they are always leashed and cleaned up after.
As you can see in the picture above, Red Charm opened up today. Two of our fields on the west side of our driveway have early to mid varieties in prime bloom with some mids showing today as well. Color percentage is about 15 to 20% in these fields. My guess is peak color in the fields a week from now but the joy of coming in the early to mid bloom stage is to see varieties that are normally done blooming like they were last year. That is why we encourage our customers to order peonies that bloom at different times so you can enjoy about 7-weeks of color from very early to very late varieties. Also many of the intersectional hybrid peonies are showing color with their primary buds. Our north field is showing more color vs the south field by the canopy so it is well worth the 1/4 mile walk to the north field. Our field on the east side of our driveway is not showing any color yet next to our driveway as that is our micro-climate field with lower temperatures. Amazing the temperature difference as you walk between the south and north field. Peony Field Days is only in the fields south of our home so please respect that unless of course you wanted to watch all the Purple Martins flying around in the two houses next to our house.
As far as field conditions, it is a tad muddy in some of the areas from the rain this week. You may want to bring some boots if your planning on coming on Friday. As far as the mosquitoes, so far so good with very few around as of now. You will see a lot of honey bees around the blooming peonies so just let them do their work and they will not bother you. We are a honey bee safe farm and our hives are a distance away from our peony fields. Make sure to bring your cameras as being the largest chemical free peony grower in the world, butterflies, honey bees, hummingbirds and of course Purple Martins, love living here and present some amazing shots. We do have trumpeter swans stopping in almost daily on our pond so be ready with the telephoto lens if the shot presents itself.
Those of you who will be ordering your bare-root peonies for pick up or delivery this fall, you will receive a variety listing upon your arrival at the information tent and then when you are finished strolling through the fields, stop back at the information area and someone will be available to answer any questions and be able to take your order. If you are paying with a check or cash, there is a 7% product discount vs full price when paying with a credit card.
Have a safe trip out here and we can't wait to see you at Peony Field Days!