WOW what a day's difference with the peonies blooming! Depending on which field and if the field is facing south, about 15-20% color is showing in the varieties. The great news though is that the 'reds' will be peaking tomorrow and Saturday. Remember my previous post about 'Red Charm'? Well Red Charm is in peak which means some of the other reds like Red Grace, Christmas Velvet, America, Dad, Eliza Lundy and Burma Midnight are at peak or soon as well. The following pics were shot moments ago. First one is Red Charm, second is Red Grace and finally not to be out done by my lovely wife Becky from yesterdays post, is America.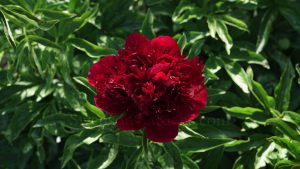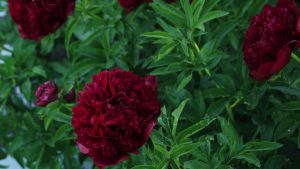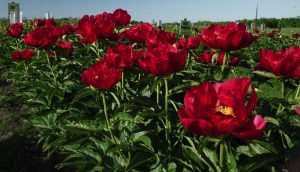 For those of you who visited us last year, most of these were past peak so load up the car and head east, west, north and south to see these amazing peonies! Speaking of my last post, boots are not required for tomorrow. Today's sun and wind really dried up some of the wet spots getting between the fields. I have been trying for years to get a good pic of 'Laura Magnuson'. Very tough to photograph especially in full sun. Driving past our west field you could see Laura from a distance. Ok full frame Sony lets see what you can do…I'm happy! Did I tell you I LOVE this camera! Yes after all these years, was finally able to shoot Laura Magnuson in her vivid color.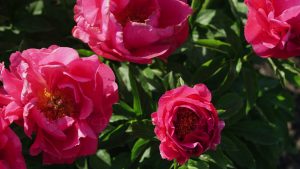 I'm ok now and yes the nebulizer treatment for another round of bronchitis is finally wearing off. Thankfully the Sony can keep up to me as albutoral was certainly working in the fields taking pics tonight! Whew but wait what is that peony over there? I didn't see mama, papa or baby bear so it must be 'Goldilocks'. Yes Goldilocks is at peak bloom and unfortunately the signs of our two nights of frost are noticeable as well. Growing peonies in the north country is always a challenge especially when it comes to late spring surprises. Oh well we're ok with living here and enjoying the ever changing weather no matter what happens. Will be interesting to see if some of the mids and lates show signs of frost damage on some of the outer petals. Here is a great shot of Goldilocks!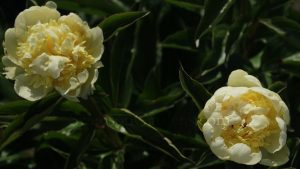 Alas it is time to stop and get this post out to you before another neb treatment. We are so looking forward to seeing you on June 2nd and I will be posting that night for Peony Field Updates for those of you coming out on June 3rd. I leave you with this shot of our west field looking north from our information tent. Though it is not a sea of color for the next two days, there are some extraordinary early and early to mid peonies that are excited to see you as well at Swenson Gardens Peony Field Days!