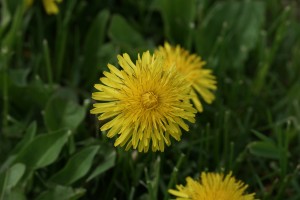 From time to time I will offer some tips for those of us who like to get up close and personable with our subject matter. Today had perfect light conditions for macro photos. What is the perfect light condition? Cloudy, with some diffused sun penetration. You need some light penetration to allow your subject matter to pop! The dreaded dandelion comes alive with color against its dark green background. Trying out my new Tamron 90mm F/2.8 Di lens on a Sony A77 body. I also use a UV filter made by B&W and model is a XS – Pro Digital MRC nano. Yes its expensive but well worth it!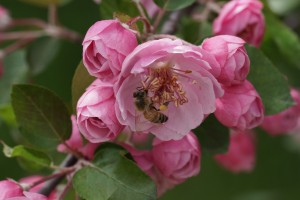 Since I love color, I like to keep my F stop around 7.1 or 8 and adjust shutter speed and ISO from there. One of our crab apple trees was loaded with honey bees (YES!) and just could not pass this up. Notice the pollen on this worker honey bee. Because the sun was peaking through the clouds, moved the white balance to 'daylight', ISO down to 400 and shutter speed at 1/640. The saturation of the color is amazing. I prefer manual focusing in the macro mode as automatic focus takes too long to get the shot and by that time the shot may be missed.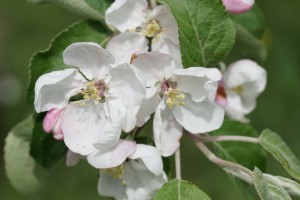 White is one of the toughest colors to shoot. I prefer sunlight in this case to really bring out the nuances and textures as this apple tree bloom presented itself in between the clouds. Again though this is a somewhat diffused sunlight, but what a difference versus shooting white when it was all cloudy.  Happy photo hunting! Can't wait for the peonies to show!