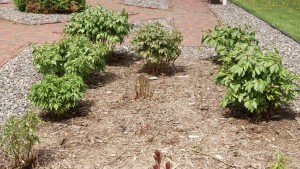 With almost 3″ of rain this past week, peonies in one of our display gardens are looking great. As you can see the larger plants are early blooms, next size down are mid blooms and ones just starting are late blooms. This is why we stress planning your gardens with various bloom time peonies. Our new bloom time page should be updated soon with varieties available this season. In past years we've had at least six weeks of color from the first bloom to the last bloom. Fun to have 'peony color' this long versus having one type of variety that blooms and then you are done.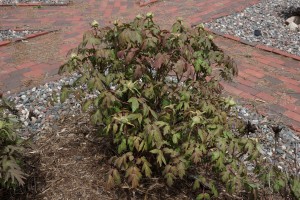 Tree peonies have set their buds and should have color in the next week or so. Tree peonies are sometimes one of the first 'paeon' to bloom, but this year the hybrid fern leafs beat the tree peonies. We will not have tree peonies for sale this year but maybe in the next year or two. All of our tree peonies are some of Roger Anderson's seedlings so am anxious to see how they bloom and plant habitat. Since we are USDA zone 4a and at the colder range of tree peonies, the only variety that has made it in our fields are Japanese, Lutea and P.rockii's. Chinese, American and Daphnes do not make it up here unless winter mulch/cover is provided. Just a word of caution to those of you who may be inspired to buy potted tree peonies and/or box store peonies, unless you know where they were raised and what if any name they are, don't buy them! You get what you pay for. Stay tuned over the next few years as our field grown tree peony stock continues to grow and surprise us!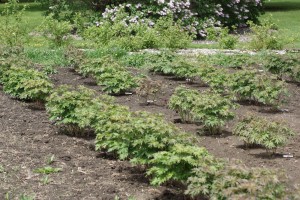 Intersectional hybrid peonies are just starting to set their buds. Can't wait to see their color!