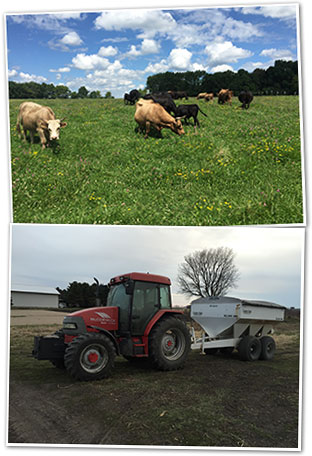 It's the dirt –
Years before the first peony blooms appear, Swenson Gardens begins preparing the soil of the new fields. It all starts with the cows. The herd of Dexters, known as the Fertilizer Production Team, is the source of the composted manure that is first applied over the hay fields. Then a mixture of gypsum and Milorganite is spread before the ground is plowed under. A cover crop is planted and the same materials are applied again before the soil is plowed for the last time. Finally, planting can commence. Using this sustainable, chemical-free fertilization technique welcomes micronutrients and microorganisms into the soil. That is a good thing, because chemical fertilizers only address what happens above ground and repeated applications can create sterile soil. Taking care of our precious dirt provides the best possible growing site for the bare root peonies and means years of beautiful peony enjoyment for you!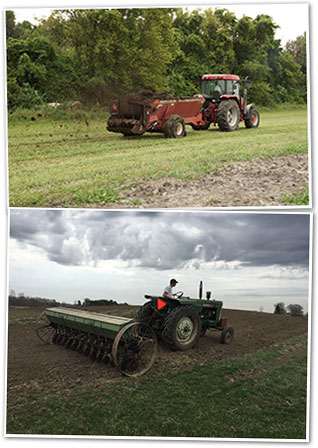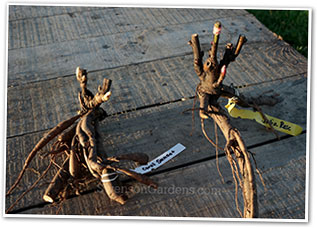 Generous bare root peonies –
What do you get when you buy a peony from Swenson Gardens? We sell only bare root peonies, which are shipped and planted in the fall. Bare root peonies grow faster, are more disease resistant, and adapt much more quickly to your soil than potted plants sold in garden and home centers. You can expect from us a freshly dug and well-formed root, featuring at least 4 eyes. Everything we sell is from original rootstock, which produces the healthiest plants. No cheap, tissue-culture roots are ever sold through Swenson Gardens.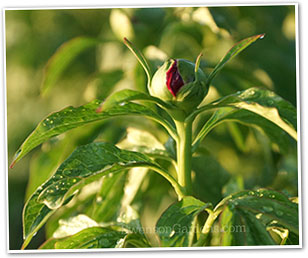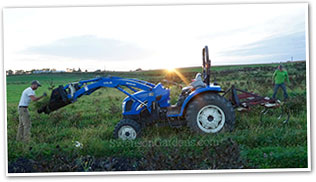 Getting your peony to you –
Late August is digging season! Our crew carefully digs plants that are 3-5 years old and the roots are washed and cut in to sections, called divisions. Each division is individually tagged with the variety name. To make planting easier, a red rubber band is also attached to the stems of intersectionals, which indicates the proper soil depth for your USDA zone. This feature is a Swenson Gardens exclusive. Your root is then carefully packed in moist peat moss, boxed, and shipped via Priority Mail or another expedited method.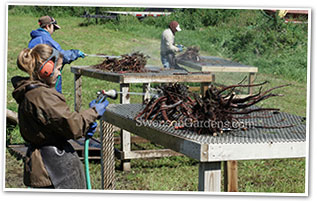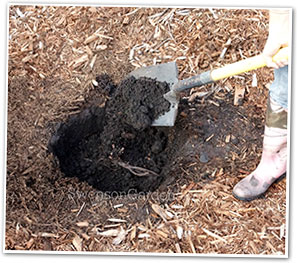 How to Plant Your Peony Root –
Planting your bare root peony is not difficult, but it does take some effort to do the job right. The time and energy invested will reward you with a healthy plant, lovely foliage, and gorgeous blooms for decades. Click here for written planting instructions or click here for our video "How To Plant Peonies". If you live in USDA zones 2-4, mulching is needed to protect your first year peony before its first winter. This step is not needed in the warmer climates of USDA zones 5-8.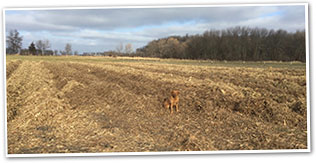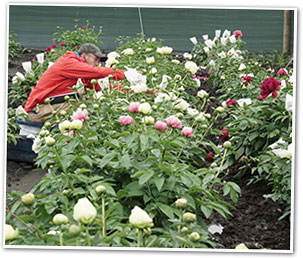 Advanced generations of peonies –
In 2011, Swenson Gardens purchased all of Roger Anderson's herbaceous, intersectional hybrid, and tree peony seedlings. Roger has been our mentor and friend since 1998, and it is an honor to be selected to carry on his work. Can you imagine what incredible plants can be produced after 42 years of hybridizing peonies? As evidenced by the photo on the right, they are spectacular! Some of these seedlings may be offered for sale in the next few years. In the mean time, a new guy in the peony world is hybridizing more advanced generations of peonies. Daniel Zabel is his name and he will be featured as the originator of Roger's next generations.